To celebrate Black History Month, I've decided to shine a light on some of my favorite Black women from history that people (*cough white people cough*) may not have heard of.
Because February has lasted both approximately 1 million years and about 2 days, I almost made it past the last Friday in February without doing a post for Black History Month. For shame Elle, for shame! So to celebrate Black History Month, I've decided to shine a light on some of my favorite Black women from history that people (*cough white people cough*) may not have heard of. Obviously Harriet Tubman and Rosa Parks are bamfs, but I'm trying to go past the awesome ladies that everyone knows and highlight three of the many, many gems that don't get nearly enough attention in the month.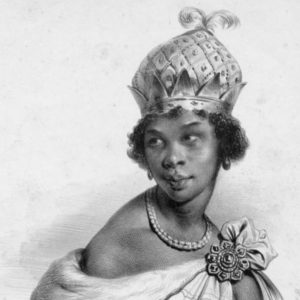 Queen Anna Nzinga
Queen Anna Nzinga (1583-1663) was first an ambassador and then a ruler for the Mbundu people in Angola in the 1600s. When her brother was king, he sent her to negotiate with the Portuguese, who were attempting to enter Angola as a new slave trading port. When entering into negotiations with the Portuguese representative she realized the only chair in the room belonged to the Portuguese governor. Wanting to start negotiations on an equal footing, she motioned for an assistant to get on all fours, and then sat upon her for the length of the negotiations. After her brother's death and some political machinations that may or may not have included the murder of her nephew (gotta talk to Richard III about those nephew murdering rumors) she took control. When the Portuguese didn't honor the treaties she had made, Nzinga managed to wage war against them for thirty years. Pretty hardcore.
Sources:
http://www.blackpast.org/gah/queen-nzinga-1583-1663
https://en.wikipedia.org/wiki/Nzinga_of_Ndongo_and_Matamba
Josephine Baker
If the afterlife has a dinner party, you want to sit next to Josephine Baker (1906-1975). Born to a mother who was a former entertainer, Josephine had been a live-in domestic servant, lived on the streets, danced on street corners, been married twice, and was recruited to be part of a vaudeville show, all by the time she was 15. During the Harlem Renaissance she moved to New York City, and was part of the chorus line in Shuffle Along. Baker eventually left the US to escape the constant discrimination she felt there.
In 1925 she started performing in Paris at the age of 19. She became famous for her sensual dancing and her daring costumes. In the Danse Sauvage she wore only a feathered skirt, and then in La Folie du Jour a year later, she would dance in a skirt made up of 16 bananas, and little else. She also often performed with her pet cheetah, Chiquita, who wore a diamond collar and often escaped into the orchestra pit to terrify the musicians. Baker became the most successful American entertainer in France, and gained admirers such as Ernest Hemingway, Pablo Picaso, and e e cummings. Baker was bisexual, and also had relationships with women around this time, including the blues singer Clara Smith. She became the first black woman to star in a major motion picture, appearing in the 1934 film Zouzou. During WWII, she was recruited to act as a French intelligence agent. As an entertainer, she had a plausible reason to move about Europe and North Africa, touring clubs and entertaining soldiers. She also gathered information and passed messages written in invisible ink on her sheet music, or even pinned to her underwear. For her work during the war, she received two of France's highest military honors, the Croix de Guerre and the Rosette de la Résistance. She adopted twelve children from all over the world, whom she called her "Rainbow Tribe," to show that people of all races could live together happily. During the Civil Rights Movement, she refused to perform at segregated venues, which helped lead to the integration of Las Vegas clubs. She ignored death threats from the KKK, and became good friends with Grace Kelly after the latter defended her during a racist incident at the Stork Club. She spoke alongside Martin Luther King, Jr. at the March on Washington, and was even approached by Coretta Scott King to be a new leader of the Civil Rights Movement following MLK's assassination. Baker eventually said no, fearing that her children might lose their mother.
Baker received a standing ovation at Carnegie Hall in 1973. In 1975, she starred in what was meant to be the first of many performances celebrating her 50 years in Paris as an entertainer. The audience for the opening night performance included Princess Grace, Sophia Loren, Mick Jagger, Diana Ross, and Liza Minelli. Four days after this initial performance, Baker died in her sleep of a cerebral hemorrhage. More than 20,000 lined the streets of Paris to witness her funeral, and was the first American woman to be buried with French military honors.
Sources:
https://en.wikipedia.org/wiki/Josephine_Baker
https://www.biography.com/people/josephine-baker-9195959
Bessie Coleman
Bessie Coleman (1892-1926) became the first woman of African-American and Native American descent to hold a pilot's license. Born in 1892, she was the tenth of 13 children of two share croppers. Growing up in Texas, she had to walk four miles each day to her one-room, segregated school, where she was a bright student. At 18 she enrolled in the Oklahoma Colored Agricultural and Normal University (man they had weird names for shit in the early 1900s) but her money ran out after just one semester. After moving to Chicago to work as a manicurist, she heard many stories from returning WWI pilots about flying. She took a second job to save money for flight school, but no American schools would admit women or Black applicants. With some financial backing from a banker and a local paper, Bessie took French lessons before moving to France to study at a French aviation school. Returning to the US in 1921 she was a media hit, but quickly realized that to make money in the civilian realm as a pilot she would have to become a stunt flier, which would require additional training. But again, no school in America would accept her. So she returned to Europe and studied under multiple instructors in multiple countries. She started performing in US airshows in 1922, and became known as "Queen Bess." Unfortunately, she died at the early age of 34, when she was thrown from a malfunctioning plane during a rehearsal for an aerial show.
Source: https://en.wikipedia.org/wiki/Bessie_Coleman
There are many, many more amazing Black women that I would love to talk about (hat tips to Ida B. Wells, Sister Rosetta Tharpe, Shirley Chisolm, Mae Jemison, Nella Larsen, Nichelle Nichols, and Ella Baker!) Hopefully next year I'll have a better grasp on how long February is, and I'll be better prepared to talk about these awesome ladies.
Signed: Feminist Fury
***
Photo source: Wikimedia Commons, CC0 (Public Domain)